Aktuelni trendovi koji vladaju u proizvodnji sveća fokusirani su na izvorno, održivo, ekološko i zdravo. To smo i mi ali ne mirujemo već idemo dalje.
Kreativnost i pre svega smelost su koraci koje mi činimo ali potstičemo i sve druge da se u tom smeru slobodno kreću, a sve počinje od materijala. Zato i u sektoru mirisa nudimo one koji su prvo tehnički provereni.
Sarađujemo sa najboljim i najkreativnijim parfimerima i mirisnim kompanijama lociranim u Francuskoj i Nemačkoj. Ovo nam omogućava da našim kupcima ponudimo veoma ekskluzivne mirise. Neki od njih su sastavljeni od patentiranih mirisnih molekula koji nude aromatičnu jedinstvenost na tržištu.
Koristimo prednosti višedecenijske saradnje kako bismo zadovoljili originalne i individualne želje naših kupaca. Iz tog razloga imamo tehnički i dizajnerski uticaj na kreacije mirisa, drugim rečima… ljudi hoće da nam ispune zahteve.
Nemački stručnjaci za bezbednost utvrđuju da su svi zakonski zahtevi ispunjeni za odabrani miris. Na kraju, svaki miris prvo mi testiramo u različitim voskovima pa puštamo na tržište.
Trudimo se da svojim kupcima uvek učinimo dostupnim nešto novo i zato nemamo i ne planiramo mirise za koje se može reći "već viđeno". Osim kada neko traži čokoladu. Ili kafu.
Kreiranje mirisa uslovljeno je pravilnim izborom sirovih sastojaka i razumevanjem njihovih mirisnih nota i hemijskog sastava. Pravilna ravnoteža zavisi od koncepta koji se zove mirisna piramida (Olfaktorna piramida), a prikazano slikom, to izgleda ovako: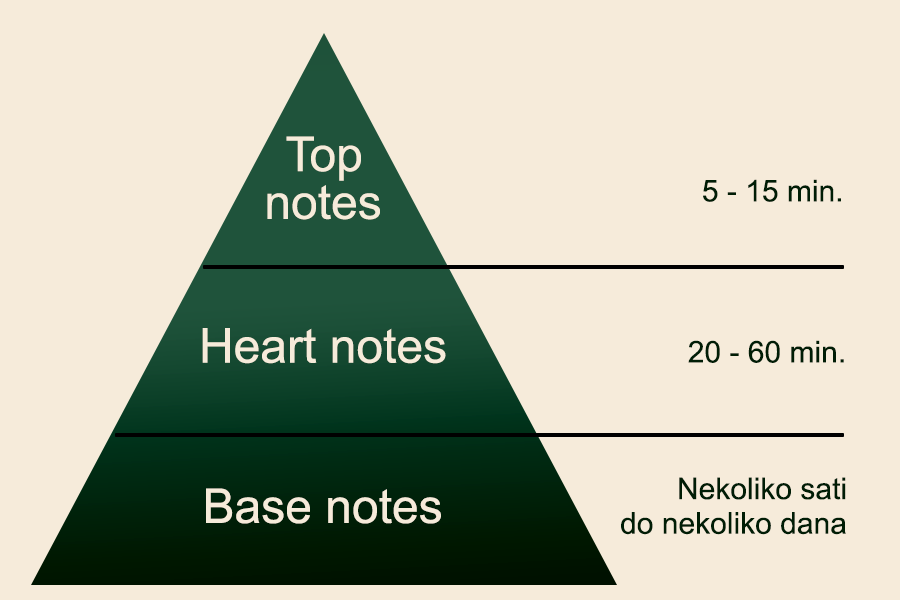 U cilju postizanja ugodnog balansa, sve mirisne note kategorisane su kao Gornje note (Top), Note srca (Heart) i Bazne note (Base). Svaka nota ima svoju brzinu isparavanja prema čemu su sastojci kategorisani.
Top note
Ovo su najisparljiviji mirisi i brzo su prolazni zbog svojih manjih i lakših molekula. Najzastupljenije gornje note su: Narandža, Limun, Bergamot, Nana, Đumbir…
Prosečno trajanje je 5-15 minuta.
Heart note
Kada gornje note nestanu, tada se osećaju srednje note. One karakterišu sam miris i daju mu karakter.
To su cvetni mirisi: Ruža, Ljubičica, Jasmin, Ylang
Vreme trajanja: 20-60 minuta.
Base note
U kombinaciji sa srednjim notama, osnovne note daju dubinu mirisu i najduže ostaju aktivni. One traju od nekoliko sati do nekoliko dana.
Popularne bazne note su: Amber, Mošus, Sandalovina, Vanila, Pačuli…
Mirisne piramide nekih mirisa koje mi imamo u ponudi:
Sandalwood Vanilla
Top: Bergamot
Heart: Ylang-Ylang, Orris
Base: Vanilla, Caramel, Balsam, Sandalwood
Musc Orientale
Top: Geranium, Orange, Lemon, Bergamot
Heart: Orange Flower, Jasmine, Ylang Ylang
Base: White Musk, Patchouli, Vanilla, Amber
Cool Tobacco
Top: Green Leaves
Heart: Tobacco
Base: Leather
White Ginger Ylang
Top: Geranium
Heart: Orchid
Base: Amberwood
Tonka Bean
Top: Cedarwood
Heart: Vanilla
Base: Styrax
Wild Fig & Ylang
Top: Green Leaves
Heart: Ylang
Base: White Musk
Clean Cotton
Top: Bergamot
Heart: Cotton Flower
Base: Rosewood
East Indian Woods
Top: Amyris
Heart: Rosewood
Base: Sandalwood
Gin tonic
Top: Lime
Heart: Gin
Base: Juniper Wood
Smooth Vanilla
Top: Walnut
Heart: Sugar
Base: Bourbon Vanilla
Charmant
Top: Nutmeg, Lemon, Grapefruit
Heart: Jasmine, Cedarwood, Geranium
Base: Patchouli, Sandalwood, Vetyver, Oakmoss
Gaufrette 1970
Top: Bergamot, Lemon
Heart: Jasmine, Ylang, Tuberose
Base: Patchouli, Sandalwood, Musk
Echo
Top: Basil, Juniper, Cypress
Heart: Geranium, Violet, Rose
Base: Patchpuli, Moss
Biceps
Top: Italian lemon, Orange Brazil, Fir balsam
Heart: Lavender, Petit grain, Jasmin, Sambac
Base: Oakmoss, Amber, Santal, White musk
Iris
Top: Cerdamom, Violet, Fig
Heart: Jasmin, Rose
Base: Iris, Santal
Epice Doux
Top: Cinnamon, Ginger
Heart: Dry fruits, Clove
Base: Vanilla, Tonka bean
Blue Light
Top: Orange Blossom, Lemon, Honeysuckle
Heart: Warm smooth rose
base: Wood
Sea of Monoi
Top: Raspberry, Coconut
Heart: Jasmine, Black Currant, Peach
Base: Vanilla, Honey
White Musk
Top: Jasmine Absolute, Ylang-Ylang
Heart: Lily-of-the-Valley, Vetiver, Oakmoss
Base: Musk
Dark Musk
Top: Pear, Pink Pepper
Heart: Bergamot, Patchouli
Base: Oakmoss, Musk, Sage
Fig&Spa Essence
Top: Bergamotte, Green Grass, Green Leaves
Heart: Jasmin, Iris, Ivy Leaves
Base: Velvet, Amber